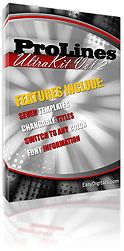 I am very excited to announce our newest sports poster templates, ProLines Vol 2 & Quick Poster Vol 5.
These Photoshop or Elements sports sets will help you create incredibly easy posters that will look like you spent hours and hours customizing! Only 2 color changes, text changes and clip your photos and your are finished in a snap and have a fantastic poster or framed photo.
You can get the fully loaded ProLines Version with 7 templates or the 2 poster Quick Kit version.
Read more about each set and watch the tutorials here:
ProLines 7 Pack
Quick Poster 2 Pack
3 day only SALE codes end May 2 at midnight central, 2009:
Save $10.00 Prolines 7 Pack code: 3days10
Save $5.00 Quick Poster 2 Pack code: 3days5