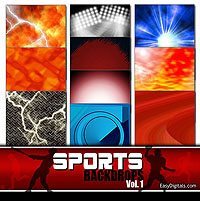 New! Sports Backdrops
These are original backdrops that you won't find anywhere else!
Watch for future additions to this set with Photoshop template overlays.
More themed backdrops are in the works for Baseball, Football & Basketball. AND new tutorials on how to use them all. Tell me what you'd like to see in a backdrop.
Here's what you get with this set:
10 backdrops
8×10 tiff, 300 dpi
Ideas and Information
Overlay photos and add a shadow or add extracted photos
Great for photographers, professional or novice!
Check out the idea zone to see what awesome photo layouts you can create using these backdrops.