Several people have asked me about the Road & Clouds  background I used on the photo below so I thought I'd blog about it.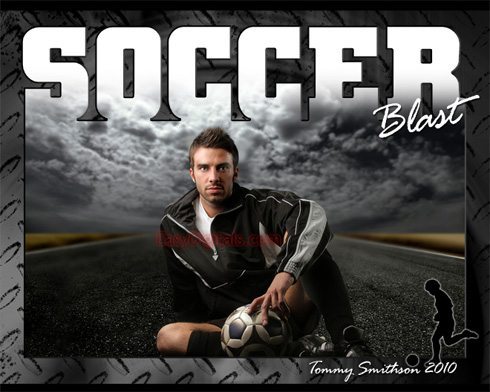 The above photo of the soccer player was a stock photo I purchased from Bigstockphoto.com. Eventually I may provide backdrops similar to this that you can add to your photos. For now I'd like to recommend that if you want to use these for your extracted photos then you can get them from a stock photography provider. When you buy images like this, I have a few recommendations:
Try before you buy. Download the sample image and add it to your design. When you resize it, it will not be the best quality but you can get a good idea of how it will look on the finished product.
Make sure you purchase the high resolution that you need for printing.
Learn more about removing people from backgrounds with this tutorial.
Here is an istockphoto.com Lightbox I compiled of some cool backgrounds I found. Click here to go to the light box at Istockphoto.com.
Here is a screen shot of a light box at Bigstockphoto.com with players. Click here to go the Lightbox at BigStockPhoto.com. (You will need to log into the site to see the lightbox, creating an account is free).