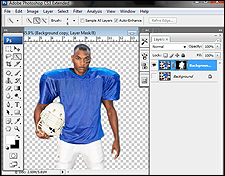 In my newest tutorial I'm going to show you how to remove a sports player from the background using Photoshop's power tool called the "Quick Selection Tool".
Take a look around this site at the "Examples" for great ideas on what to do with your extracted players to add a more action and polish to your posters.
I welcome your feedback in the comments area below. Enjoy!