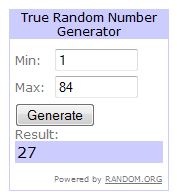 Congratulations to blog comment number 27 kittykatt25, you are the winner of ProShow Gold.
For those of you that did not win, don't forget to download the trial and log into the member area at EasyDigitals.com for a 20% discount code that expires Jun 1, 2011 for ProShow products.
Thank you everyone that entered! Check back often for another fun Giveaway for May!