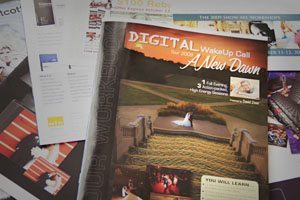 Last thursday I was lucky enough to attend a really fun and information packed class put on by David Ziser. David is mainly a wedding and event photographer.
What's great about learning techniques from good wedding photographers is that even if you don't shoot weddings you can still learn a lot. Here's why: wedding photographers shoot in many different lighting conditions, they shoot fast and they don't carry a lot of gear.
So what are some of his secrets?
Well for starters he showed us why bouncing your flash off of a white ceiling can create very unflattering images. Harsh, raccoon eyed brides are not good under any circumstance. Instead bouncing the flash off of the side wall, umbrella, reflector or even a white shirt is a much better option.
What are David's favorite lenses?
David mentioned a love of the 18-200mm F3.5 and loves throwing the background out of focus. He also likes the 24-105mm lens.
How many pics, what ISO?
David shoots up to 3000 pictures on a wedding day.  He stays mainly in the 800-3200 ISO range. Doing 400 ISO for outside shots. He's not afraid of noise with those higher ISOs simply because he can run a noise filter on them later.
What are a few of David's favorite vendors and equipment?
He shoots Canon
Uses the Quantum T5d-r Flash head
Turbo 2×2 or smaller power pack
Freewire Radio controls
Off camera flash through an umbrella (he even invented his own umbrella, the Zumbrella)
He likes to use this little slave flash for back lighting
He uses a little Z-Ray or Mini Z-Ray for detail shots like wedding rings, shoes, cuff links etc.
He loves using FotoFusion Extreme to create his albums.
Uses MorePhotos to show his photos to customers.  What he likes about them is the ability of his customers to bookmark favorites as the slide show is running.
He had many books there from Zookbinders and aci that looked amazing.
He loves Amimoto
He's also excited about the new digital cameras that have video ability and showed us an amazing and touching video from bebb studios demonstrating the results of mixing video and still shots with an engagment session they did.
David spent the 2nd half of the class talking about some great marketing ideas. I'd say the night was definitely worth my $59.00 (I had a $20 discount for being a NAPP member)
You can see if the tour is coming to your city here.
Check out David's blog for daily info and tips. I can't wait to read it myself.
Disclaimer: I am not in any way affiliated or getting a kickback from any of the above vendors (not that I would not love it!)