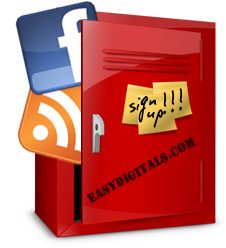 It's easy to stay up with the latest news at EasyDigitals.com. Sign up for our Facebook group or Follow our blog with our RSS Feed.
I've recently transfered all of the blogs I like to follow to my Google Reader and even have it as my Home page on FireFox. So now, everytime I go Home I can see which one of my favorite blogs have been updated. This system works great for me so I thought I'd share it with you.
Let me know your favorite ways to keep in touch in the comment area below.