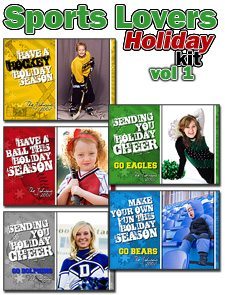 OK, so let's get real. I had a hockey mom buddy of mine that sent me a striking action photo of her son playing hockey in a Christmas card template, you know the type of card that you get at the local store… it had her COOL son playing COOL hockey and the personal message was, "Have a Hockey Christmas!"  but HELLOOOO!  It was presented on a standard template with a cute little house that was blowing smoke out of the chimney!!!!
EasyDigitals.com to the rescue! You do not have to pick the cute little house blowing smoke anymore…
Do you love sports? Are you a sports family? A Hockey, Cheerleader, Football,  Baseball, or Soccer Mom or Dad? A die hard fan? Well you can have a custom sport Christmas card this year! Show passion for your favorite sport and send out special holiday greetings too…
Photoshop or Photoshop Elements compatible
5 x 7 inches
300 dpi
 12 sports clipart options
5 color layers PLUS each layer has a hue/saturation clipping mask style layer to change the template to any color.
Special offer November only
Save $5.00 use the code: NovSports