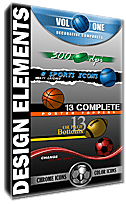 I'm super excited about this set Photoshop and Elements!  Action Sports Design Elements is going to give you tons of options for your photos. Here are some of the many uses for it:
Sports Poster Headers
Sports Poster Footers
Watermarks
Logos
Unique sports cards
Sports trading cards
Add to other EasyDigitals.com products
On sale this month only. Ends April 30, 2012. $10.00 taken off automatically at checkout.