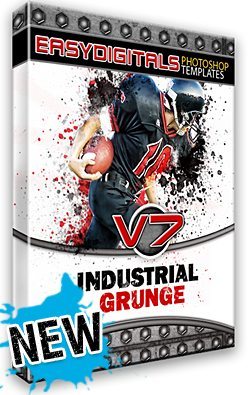 I'm very excited to offer this new Industrial Grunge design as the fall sports season is getting into motion.
This set offers more than any other EasyDigitals.com set to date. New templates include bigger sizes for 20×30″ posters, tickets and buttons.
11 Templates:
2-20×30″ (150 dpi)
2-5 x 7″ (300 dpi)
2-8 x 10″ posters (300 dpi)
1-8 x 10″ memory mate (300 dpi) Can also be printed as 16×20″ – 150 dpi
1 set Trading cards, front and back-3 x 4 inch (includes 1/4 " bleed) (300dpi)
1-ticket design 2×8″ (300 dpi)
1-button 3.5×3.5″ with 1/4″ bleed (300 dpi)
The tutorial for this product should be out soon, along with a few fun tutorials on how to load and use Photoshop brushes. So keep checking back!
August only!
$15.00 off normal price
Use code: ig7aug