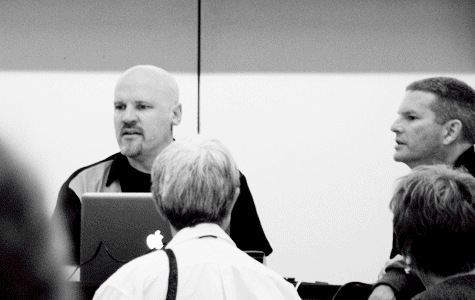 Recently I was fortunate enough to attend the Maximum Photoshop CS4 Seminar Tour. It was a information packed learning session with renown Photoshop User TV host, Dave Cross.
Since I knew Dave would be going over all the new bells and whistles of Photoshop CS4. I decided to go ahead and upgrade to CS4 a few days before the seminar. The upgrade was a little less painful then a mild case of poison ivy.
So what did I learn and what are the features and benefits of CS4?
Well, first of all let me tell you that the seminar's workbook was one of the best and most thorough out there. My only gripe is the same one I always have, I wish it was in color! But I have to say that this book was far better then the Digital Wakeup Call workbook and the workbook I received from my training last year from Ben Willmore. Ben's seminar was great but the workbook was not as detailed as Dave's.
The first thing Dave did was go over Photoshop's Seven Little Known Power Functions. I guess Dave is an over achiever because he actually gave us 8…
Actions
Dave then started into the meat of the program and gave us the Secrets of Making Perfect Selections, also called extractions. Dave's approach is to use many tools in making the perfect selection including:
Shape Selection Tools and Automated Selection Tools like:
Magic Wand
Magnetic Lasso
Color Range
Quick Selection
Other tools to think about when doing extractions are:
Quick Mask
Channels
Layers
Pen Tool
Transform Section
Refine Edges to name just a few.
Next Dave went over Must-Know Photoshop Fixes
Fixing White Balance
Adding a Logo with a white background
Colorize something white (I love this)
Changing a black outfit to white
Removing shadows
Extend a photo without distorting it
How to fix blown out details with Blend If sliders
Easy ways to fix sensor dust an multiple photos
Then Dave finishes up with Mastering Photo Effects and Finishing Touches and Photoshop Unleashed.
My overall feeling from my day with Dave was, "Yay, I can't wait to try this stuff at home!!!" If Dave comes to a city near you, I highly recommend that you check out his seminar, you won't regret it.