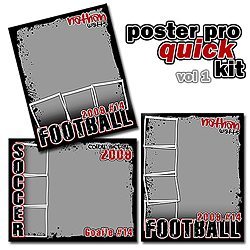 Need a quick Photoshop sports poster template?
Introducing  a new line of products offered by Easydigitals: Pro Poster Quick Kits.
If you need to make posters, then this is the product for you. These posters come in 8 x 10 inches, 300 dpi, horizontal and vertical. They can also be printed at 16 x 20, 150 dpi and bigger.
October Special!
Get $5.00 off this new set.
Use the code: ppqk1