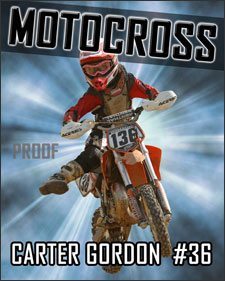 I started in photography by doing portraits and weddings many years ago, but wasn't happy with that area. My husband and nephew took up racing quad hare scrambles about 12 years ago, and that got me excited about photography again. A track owner asked if I'd try taking pictures of motocross sometime, and that really got me hooked. Six years ago, I finally took the plunge and went into business officially. I now cover four MX tracks, a hare scramble series, and two off-road truck/buggy organizations. 2009 should add a couple more MX tracks, and possibly a truck mud bog series.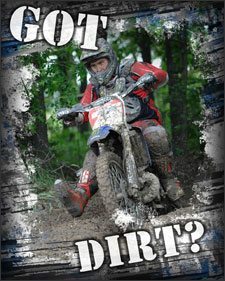 I primarily shoot motocross, hare scramble, short course and enduro racing; and portraits when time allows.
Easydigitals.com was the only place I could find templates that worked well with my images. Everything I had come across prior, was strictly for ball sports and just didn't look right with bikes/quads.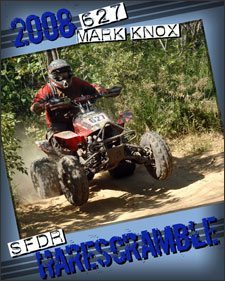 My customers love the sports templates, Urban Grunge and Edgy Grunge. With the sports templates, I can change the backgrounds so that each poster is different. They are easily modified to fit any sport — and even portraits. I've also learned a great deal from the tutorials. Photoshop is not my strong suit, and Easydigitals.com has helped a lot. Their service is top notch and I couldn't ask for more.
My business has mainly been word-of-mouth around the track. Racing runs nonstop, and I rarely get a break to talk with customers because I am a one-person operation. At some events, I put up an easy-up tent with single images, poster samples, and of course, my business cards. The tracks are also good about promoting my services with a link on their websites.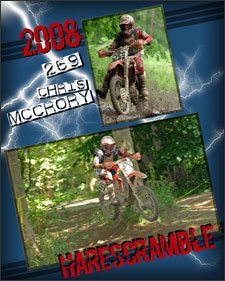 I love to see the joy on the riders' faces when they see a picture or poster of themselves. Parents of racers also use my images to coach their kids.
They learn a great deal faster by being able to 'see' what they are doing right and wrong. Photography is only part of what I do. Promoting racing and racers is the best part. To many people motosports are not "sports," and their friends think it's just for fun, but racers are some of the most well-conditioned and dedicated athletes I know.
My advice to future photographers is this: it requires lots of long hours of dust and mud in racing photography, but it is so worth it.
Check out PhyllisBlume.com now…
Ask me how you can become a Customer Spotlight and get free EasyDigitals templates.