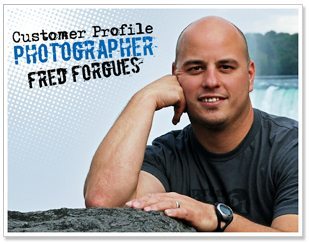 EasyDigitals.com is proud to bring you the first in a monthly series: "EasyDigitals.com Customer Profile". The goal of this new monthly addition is to show you how other photographers are using our products in creative and successful ways.
Frederick Forgues lives in Canada with his wife and four boys. Sports photography became an obvious passion that developed quickly with four boys who love to play sports. Fred became more serious about photography this summer when photographing soccer events. He got a nice lens and started shooting. Soon, the other parents were asking to see the pictures. They loved them and started buying prints in 4×6″ and 5×7″ sizes.
Fred then learned of EasyDigitals.com templates. Being fairly new to Photoshop, he found the tutorials helpful and started creating 8×10″ posters with multiple photos from the Urban Grunge set. He would take the collages to the field and show the parents. They instantly fell in love with them and started requesting more and more of them.
Fred didn't stop there. His wife is a news anchor, and she started taking sports videos for teams. They now have a company that does both videos and photos for teams.
This summer, Fred had over 4,000 pictures of different teams on his web site. Customers were able to access the web site and purchase the pictures they wanted directly from the site.
Now that he has an official company, Fred gives out business cards to parents on the fields and ice rinks. He also always carries samples of his work (using EasyDigitals.com templates) that he can share with those who are interested.
Fred says, "It doesn't feel like work at all when you love what you do!" Parents are now calling him and asking him to go to games to photograph their teams and creates sports collages of their favorite photos.
You can have a taste of Fred's web site on Lifepics. His other web site for videos is only in French for now, they hope to have an English version soon.
Thanks Fred, for letting me share your story!
Do you have a success story? Contact me now and find out how you can share your story and receive free EasyDigitals.com products.