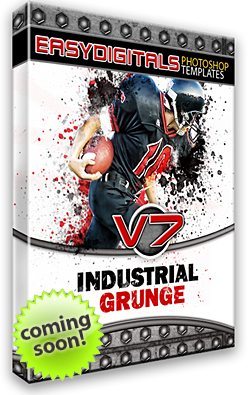 I'm so excited about releasing this new sports design! If all goes on schedule, I hope to have it out the week of August 16th!
Why am I excited? Because not only is it going to be something totally cutting edge for this Football season but it's also going to have a couple of new options that EasyDigitals.com customers have been asking for: larger sizes, tickets and buttons.
As with most EasyDigitals.com templates, this one will have its own tutorial AND I will also be creating a tutorial on the amazing use of Photoshop brushes for your Sports templates. This is going to put your posters leaps and bounds ahead of the rest.
The inspiration for this set is a combination of industrial grunge and popular video game covers. In fact, the cover used for this DVD case is inspired by the latest EA Sports videos. Check out these free totally rock'n brushes used for those covers here. Don't worry, if you need help using brushes, the tutorial will be here soon.
So check back the week of August 16th for your discount code on Industrial Grunge Vol 7.
Stay creative!