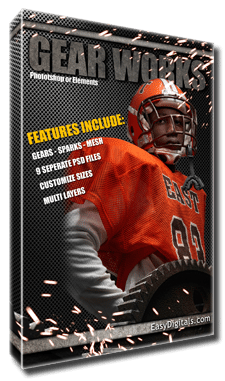 I'm excited to share a new template set that has been in the works for a couple of months!
This set was inspired by none other than the set of ESPN news broadcasts. Maybe you have seen all the fun gears and sparks flying through the air in their set. Well I just couldn't resist turning all that into a template for your sports photos.  This product required some fancy footwork in creating the textured words that are changeable, therefore the file is big! So enjoy a cup of jo and relax while it downloads.
I'd like to thank EasyDigitals.com customer Emery Way for providing the Gear image used in this set. Emery and I had discussed a gear project sometime ago. As this set came to life it begged for his artistic image and he graciously supplied it.
This set is $10 off until November 30, 2011 so don't miss out!