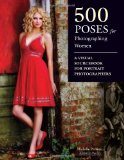 This is by far one of my favorite posing books. It's totally worth having in your library.
The book organized the 500 poses as follows:
from the head and shoulder
then moves on to waist up poses
three-quarter-length reclining
three-quarter-length standing
full-length reclining
full-length seated
full-length standing
You will have a hard time running out of ideas with this book and my subjects love to browse through it and pick poses. If you decide to get this book, let know know what you think!
500 Poses for Photographing Women: A Visual Sourcebook for Portrait Photographers