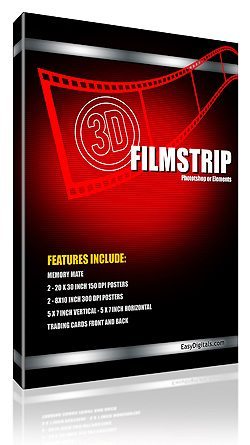 Hey fall sports photographers! I'm super excited to offer you this 3D Filmstrip set just in time for the fall sports season.
When I gave a sneak peek for this set last week, it created a lot of buzz so I'm releasing it quickly and will work on the tutorial next if I get requests for one.
This set requires use of clipping masks. Learn more about them here.
Features:
Memory Mate
2 – 20 x 30 inch 150 dpi Posters
2 – 8 x 10 inch 300 dpi Posters
2 – 5×7 inch (vert & horz) 300 dpi
Trading Cards (front & back) 300 dpi
Oh yeah, one more thing! 10 bucks off this month only.  Applied automatically at checkout.