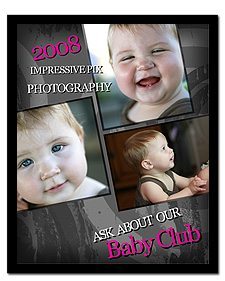 Our partnership actually began out of a mutual love of sports photography. We have sons the same age who, after many years of playing on opposing teams, eventually ended up on the same all-star team last summer (2007).  At that point, we immediately became "best friends," sharing photos, equipment and photo tips.  Kim shoots Canon and Tracy shoots Nikon, so we have the best of both worlds.  We decided to provide our quality photos for a reasonable price to parents and friends on our sons' baseball team; and the response was so great that this spring we were asked to take the team and individual photos for the league.
Soon we decided it was time to "GO PRO!"  It has been quite a roller coaster ride since then, but we love every minute of it!  We have become the "official" photographers for Heartland Idol, our local high school football booster club (THE TOUCHDOWN CLUB) and Dixie Youth Baseball.
We have done shoots for the cheerleaders, the swim team, the baseball team, the band, the golf team and the football team, as well as YMCA softball and soccer.  We are shooting a volleyball match coming up, and as soon as basketball season begins we are sure to be there also.
We primarily shoot action sports, which is our passion, but we also shoot maternity, children, newborn and infants, headshots, family, contemporary high school seniors, pets and (sigh) a couple of informal weddings.
We inform the players, parents and fans that we are shooting sports photos at an event in several ways: we wear shirts with our website printed on the back in large letters; we pass out samples of our photos and collages with information about our services printed on them; and often we set up a display at the concession stand or entry gate with more samples of our work posted on it.

In addition, since we also donate a percentage of profit back to the local high school sports teams, we are sometimes able to have the announcers speak about our services over the PA system while we are shooting.  In most cases, we have been invited to do the shoots, so the person/group who invited us passes out fliers/posters/samples or sends emails and newsletters to those they feel might be interested in making purchases. This information includes a link to our website and our contact information.  And again, since we donate back to the school, it is in their best interest to help boost our sales.
We cannot say enough about the easydigitals.com products.  We absolutely LOVE them.  They have given our sports shots the pizzazz we were looking for: no matter how great the shot is, it always looks better in one of their templates.  And the template somehow turns an average shot into "an amazing photo moment caught in time."  Being fairly new in the business, we are certainly not Photoshop masters; and being able to purchase the templates saves us so much time.  The fact that they are customizable, and we can individualize them just enough to make everyone's photo more personal, is incredible.  They really give us the professional look that we want to present to our clients without having to do it ourselves.
The most satisfying part of our business is capturing a priceless moment for someone, and then being able to provide it to them for a reasonable price.
Our advice to other photographers is, "Go for it!"  What are you waiting for?  Just jump in and do it.  Photography is so much fun and very rewarding!
Check out Impressivepix.com now…